Diet and Supplements for Fibromyalgia – Non-Pharmacological Therapies
Recently, it has been proposed that an imbalance in nutrition, including essential minerals and vitamins, might play a crucial role in the development of fibromyalgia. 33. Research has found that fibromyalgia patients deficient in amino acids, magnesium, selenium, vitamins B and D may develop dysfunction of the mechanisms that block pain, together with fatigue and other fibromyalgia symptoms (see Figure 4). Pain levels are usually lowered when optimal (best) levels of nutrition are achieved. 33. Consequently, this would suggest that adding supplements to the diet for fibromyalgia patients will help to improve pain. However, please be aware that some supplements can adversely interact with some medications; so please ask your pharmacist or doctor if you are unsure.
Figure 4: Graphic showing the effects of nutrient deficiency in fibromyalgia and how adequate supplementation can improve fibromyalgia patients' health. 33.
Wholesome Diet for Fibromyalgia
A wholesome diet, nutritional supplementation, and exercise to tolerance are the most common other metabolism-regulating therapies that fibromyalgia patients must use to fully recover. 15. For example, one study found that fibromyalgia patients who were treated with thyroid hormones and failed to adopt these metabolism-regulating therapies did not fully recover. These findings were consistent with years of clinical experience that supports the need for patients to use other metabolism-regulating therapies in addition to thyroid hormone. 15.
A wholesome diet is therefore the recommended diet for fibromyalgia patients. The wholesome diet described by Nowicki and Lowe stabilises blood sugar regulation and insulin levels, and also reduces pain perception. They recommend a diet that includes lean meats (particularly poultry), fish, fruits, vegetables, and a minimal quantity of whole grains. The diet also mini­mises foods high in arachidonic acid (which increases the production of the pro-inflammatory substances), and additive excitotoxins such as monosodium glutamate and aspartame. Patients are also recommended to use organic foods and purified drinking water to decrease the quantity of chemical contaminants ingested. 15.
Nutritional Supplements for Fibromyalgia
The minimum high-potency multiple vitamin and mineral nutritional supplements recommended for fibromyalgia patients are as follows: 15.
Vitamin B12: 3000 to 5000 mcg a day of methylcobalamin
Ascorbic Acid (Vitamin C): 500 mg to 1 g three times a day
Vitamin E (mixed tocopherols): 800 to 1600 IU a day
Carotenoids (mixed): 15 mg a day
Calcium: 2000 mcg a day in divided dosages
Magnesium (preferably as aspartate, citrate, malate, or glycinate): 1000 mg a day in divided dosages
Fish oils: 1000 to 2000 mg EPA+DHA a day
Other Effective Diets for Fibromyalgia Patients
Another recent review of research found that pain and functionality, quality of life, quality of sleep, anxiety and depression and inflammatory biomarkers in fibromyalgia patients seem to improve with the following three types of diet: 34.
a hypocaloric diet. Characterised by the consumption of only 1200 kcal per day with 20% protein, 50% carbohydrates and 30% of fats, in the form of vegetables, fruit, whole cereals and light dairy;
a raw vegetarian diet. or
a low FODMAPs (fermentable oligo-, di- and monossacharides, alcohols and polyols) diet. Characterised by the exclusion of all dairy products; all cereals except rice; cashew; all fruit other than banana, citrus, pineapple, red berries, strawberries and kiwi; and all vegetables other than pumpkin, cabbage, lettuce, tomato, carrot and cucumber.
Obesity and Fibromyalgia
Obesity can be a problem for fibromyalgia patients. For example, one review states that 35.7% of fibromyalgia patients are obese (Body Mass Index [BMI] of 30 and above), with higher figures reported for the USA. 35. This review reported some evidence of obesity negatively impacting a range of symptoms, such as pain severity, tender point count, stiffness, fatigue, physical functioning/disability, sleep, cognitive dysfunction, and quality of life (see Figure 5). They also found that only few studies addressed the effect of weight loss in fibromyalgia patients either by bariatric surgery, diet/exercise combination or behavioural weight loss. However, limited data provide preliminary evidence for a potential benefit of weight loss in improving fibromyalgia symptoms. 35. So, this gives more weight (pardon the pun) to the hypocaloric and other weight-loss diets being effective in improving pain and other fibromyalgia symptoms.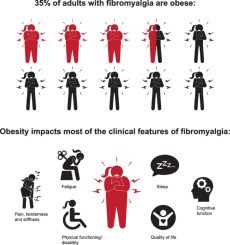 Figure 5: Graphic showing the ways in which obesity adversely affects fibromyalgia patients. 36.
Nutrition and Diet for Fibromyalgia – Current Conclusions
Existing research investigating nutrition in fibromyalgia patients is scarce and low quality. Therefore, definitive conclusions about specific diets being more effective at improving fibromyalgia symptoms cannot be drawn. The use of targeted nutritional supplements appears to be effective in the management of fibromyalgia, but the up-to-date evidence remains weak. Further, higher quality clinical studies focused on the role of nutrition in the symptoms and/or severity of fibromyalgia are needed. 34., 36. Although the research evidence remains weak, anecdotal evidence shows that supplements have some positive effects so it is worth trialing them for yourself for a month or two to see if you personally find them of benefit.
CBD for Fibromyalgia
CBD is a cannabinoid from the Cannabis sativa plant that does not cause any intoxicating effects. You can find further information about CBD here. CBD, unlike cannabis which contains THC and CBN, is considered to be a food supplement. Chronic pain, anxiety and mood disorders, and obesity have been linked to changes in the circulating endocannabinoids within the body. 37. CBD and other phytocannabinoids are thought to work by both substituting endocannabinoids and also helping to 'kick-start' the eCS when it is not functioning properly. Therefore, CBD has the potential to help the body to heal itself. Again, CBD can interact with prescription medication so please speak to your pharmacist or doctor if you are unsure.
Research on CBD and Fibromyalgia
However, scientific research into the effectiveness of CBD alone in fibromyalgia patients is very limited at the moment. There are no published clinical controlled trials so far. As a result, the research is limited to surveys of fibromyalgia patients and their use of CBD. However, many fibromyalgia patients, myself included, have found CBD to be effective in reducing fibromyalgia symptoms, including pain. For example, one study incorporating a large online survey of 2701 fibromyalgia patients found that 32.4% were currently using CBD. 38. In conclusion, participants used CBD for pain and other fibromyalgia symptoms, reporting slight to much improvement across all symptoms. Also, around half of participants reported side effects, which were typically minor.
CBD to Reduce/Stop Prescription Medication
Furthermore, a secondary analysis of the same survey found that 72.0% of participants substituted CBD products for prescribed medications, most commonly NSAIDs (59.0%), opioids (53.3%), gabapentanoids (35.0%), and benzodiazepines (23.1%). As a result, most substituting participants had decreased or stopped using their pain medications. In addition, the most common reasons for substitution were fewer side effects and better symptom management. 39. These findings highlight the need for high quality, rigorous research into CBD for fibromyalgia, particularly examining the effects of substituting CBD for prescription medications.
Next: Alternative Therapies For Fibromyalgia
References
15. Nowicki, J. and Lowe, J.C., 2020. Fibromyalgia Syndrome. In Textbook of Natural Medicine (pp. 1319-1329). Churchill Livingstone.
33. Bjørklund, G., Dadar, M., Chirumbolo, S. and Aaseth, J., 2018. Fibromyalgia and nutrition: Therapeutic possibilities?. Biomedicine & Pharmacotherapy, 103, pp.531-538.
34. Silva, A.R., Bernardo, A., Costa, J., Cardoso, A., Santos, P., de Mesquita, M.F., Vaz Patto, J., Moreira, P., Silva, M.L. and Padrão, P., 2019. Dietary interventions in fibromyalgia: a systematic review. Annals of medicine, 51(sup1), pp.2-14.
35. D'Onghia, M., Ciaffi, J., Lisi, L., Mancarella, L., Ricci, S., Stefanelli, N., Meliconi, R. and Ursini, F., 2021, April. Fibromyalgia and obesity: A comprehensive systematic review and meta-analysis. In Seminars in Arthritis and Rheumatism (Vol. 51, No. 2, pp. 409-424). WB Saunders.
36. Tomaino, L., Serra-Majem, L., Martini, S., Ingenito, M.R., Rossi, P., La Vecchia, C., Bamonti, F. and Vigna, L., 2020. Fibromyalgia and Nutrition: An Updated Review. Journal of the American College of Nutrition, pp.1-14.
37. Hillard, C.J., 2018. Circulating endocannabinoids: from whence do they come and where are they going?. Neuropsychopharmacology, 43(1), pp.155-172.
38. Boehnke, K.F., Gagnier, J.J., Matallana, L. and Williams, D.A., 2021. Cannabidiol use for fibromyalgia: Prevalence of use and perceptions of effectiveness in a large online survey. The Journal of Pain, 22(5), pp.556-566.
39. Boehnke, K.F., Gagnier, J.J., Matallana, L. and Williams, D.A., 2021. Substituting Cannabidiol for Opioids and Pain Medications Among Individuals With Fibromyalgia: A Large Online Survey. The journal of pain.